What's Happening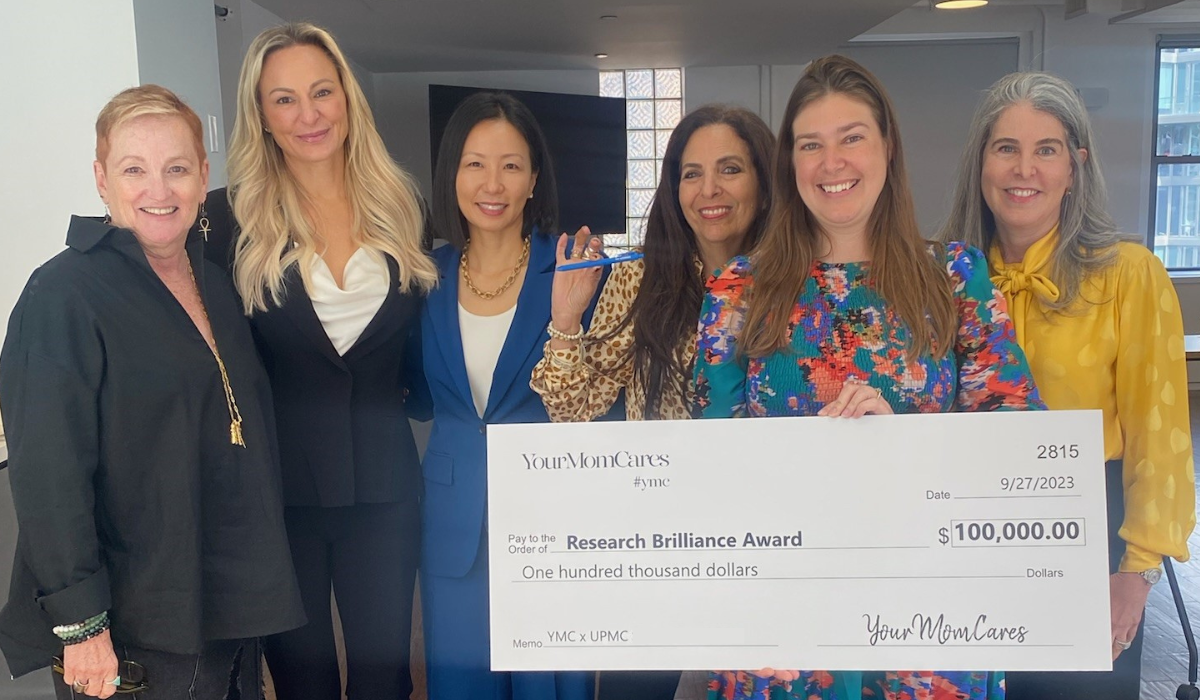 YourMomCares Announces Heather Joseph, DO as Brilliance in Research Award Winner
NEW YORK, N.Y. — YourMomCares has named the winner of its inaugural Brilliance in Research Award — Dr. Heather Joseph, Assistant Professor of Psychiatry and Pediatrics at the University of Pittsburgh.
Held on September 27, at Serendipity Labs, Dr. Joseph emerged as winner of the unique Shark Tank-style event, where three esteemed researchers pitched their innovative ideas to a panel of YourMomCares "sharks" for a chance to win a $100,000 research grant. Joseph's winning project focuses on developing a pioneering intervention for expectant and new mothers with ADHD, aiming to enhance family resilience and prevent child mental health disorders.
"I am honored to have been selected as the winner of the YourMomCares Brilliance in Research Award," said Dr. Joseph upon winning the award. "This award provides a unique opportunity to advance the field of mental health treatment faster than traditional research funding mechanisms. Our team will work directly with mothers with ADHD and community partners to develop an accessible and sustainable intervention for expectant and new moms with ADHD to improve symptoms that impact their wellness and impair family functioning. Ultimately, we believe this early intervention has the potential to improve mental health outcomes for children at risk."
The competition was developed by YourMomCares to support innovative mental health research projects in a unique and engaging way. The competition's goals were to identify and fund projects that address critical gaps in mental health research, with a focus on children and adolescents, to support young researchers with innovative approaches to kids' mental health and to allow donors to feel more connected outcomes, something that can be a challenge with research funding.
A team from UPMC served as the selection committee, tasked with narrowing down a large applicant pool to the final three researchers who presented to the YourMomCares sharks. The selection committee consisted of esteemed professionals including David Lewis, Ken Nash, Eva Szigethy, and Piper Carroll. The three finalist researchers who were provided an opportunity to present to the sharks were Candice Biernesser, PhD; Heather Joseph, DO; and Rachel Vaughn-Coaxum.
The competition marks a significant step forward in YourMomCares' ongoing efforts to support groundbreaking mental health research and bring about positive change in the lives of kids, families and communities.
About YourMomCares
YourMomCares is a kids' mental health nonprofit founded by the moms of musicians, actors and athletes. YourMomCares is creating and funding the most groundbreaking and innovative solutions in kids' mental health and wellbeing. YourMomCares is changing the dialogue from mental illness to mental wellness, removing the stigma, because mental health IS health. To learn more visit www.yourmomcares.org
About Serendipity Labs
Every Serendipity Labs location has been designed to be a welcoming, inspiring and productive workplace with flexible membership options that reflect your worklife. Choose from private offices, team suites or drop-in coworking in locations around the corner, or around the world.
About GreenlightGo
Book space at the speed of production. With one search and one stop, GreenlightGO puts hundreds of production spaces and services at your fingertips. Just in time and right on budget.