What's Happening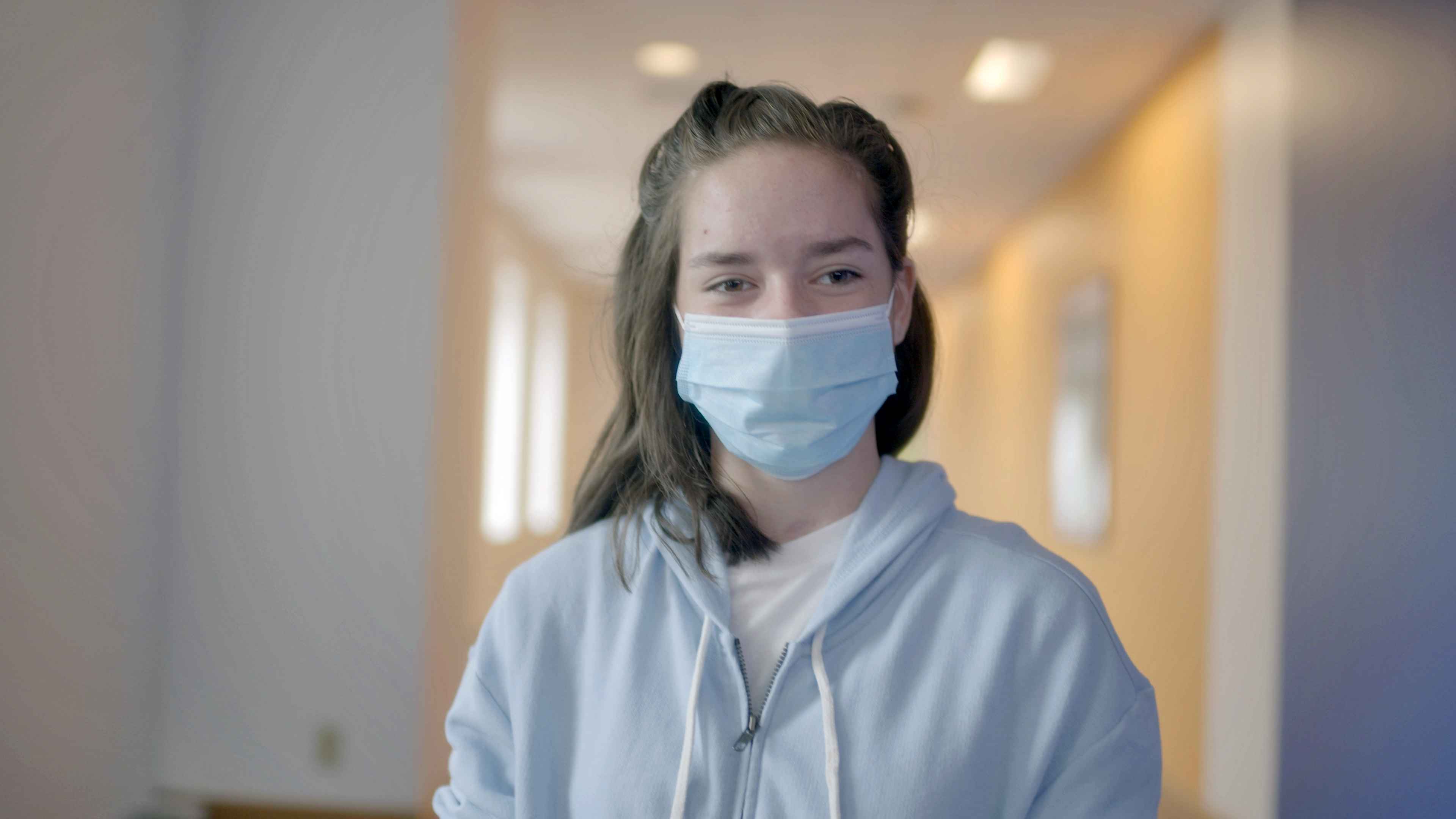 Taylor's Road Home
Kim says living with her 13-year-old daughter, Taylor, is like living in a musical. "That child will break into song while doing the dishes," Kim shares with a laugh. "She's not a great singer, but that doesn't stop her. Taylor is the most determined kid you'll ever meet."
The difference a day makes
In the summer of 2020, Taylor was a happy, healthy 11-year-old busy with cheerleading practice. On a Thursday that July, she woke up with a low-grade fever. The next morning, Taylor was feeling better, but stayed home with her big brother to rest up.
Friday afternoon, Taylor's dad, Jim, returned home from work to find Taylor unresponsive. "When I got there, my husband had Taylor on the floor and was on the phone with 911," Kim recalls. "We just could not wake her up."
Taylor was rushed by ambulance to UPMC Children's Hospital of Pittsburgh. By the time she arrived, the 11-year-old was in the midst of a seizure storm.
The long wait
To protect Taylor's brain from the onslaught of nonstop seizures, physicians in the Pediatric Intensive Care Unit (PICU) placed her in an induced coma.
With their daughter hooked up to all sorts of machines, Kim and Jim sat bedside. Watching their once happy and healthy little girl lie unresponsive in a hospital bed for weeks on end was painful beyond words for the family.
"Despite every therapy the doctors tried, Taylor wouldn't wake up," Kim pauses. "There were times we thought we'd lose her. Her oxygen levels would plummet, and the machines would start beeping like crazy. It was devastating."
Bright spots
Amid the horror of those weeks of Taylor lying comatose, there were bright spots. Kim and Jim are forever grateful to Taylor's neurologist Luis Fernandez, MD, who they say never gave up on their daughter. The Supportive Care Department — a palliative treatment team that strives to improve quality of life through relief of suffering — was phenomenal. "They are the most wonderful human beings in the entire world!" Kim says. And according to Kim, the PICU nurses went above and beyond to treat Taylor as their own. "The nurses cared for her medically," Kim states, "but they also loved her. For me as a mom, that really meant something."
The family was additionally introduced to Creative and Expressive Arts Therapy on the first day of Taylor's admission. While Taylor remained unresponsive, Kory Antonacci, MS, LPC, strummed her guitar, singing songs to soothe Taylor and her parents.
An experimental treatment
In late September, following several failed attempts to wake Taylor from her now 10-week-long coma, neurosurgeon Taylor Abel, MD, suggested an experimental type of deep brain stimulation. The procedure involved implanting an electrode in Taylor's brain to modify electrical signals.
At first, the treatment didn't seem to do much. Taylor remained in a vegetative state. With the Supportive Care team by their side, Kim and Jim began discussing end-of-life care for Taylor. The very idea of withdrawing life support from their 11-year-old little girl seemed unfathomable to the heartbroken parents.
Then, on October 16, 2020, after three months of waiting, wishing, and praying their daughter would return to them, Kim and Jim saw Taylor's eyes flutter.
Beneath the white sheets of her hospital bed, her tiny body made smaller by weeks of unconsciousness, Taylor looked up at her parents. Struggling to move her mouth, Taylor managed to mumble, "I love you."
Singing and walking
About two weeks after Taylor woke from her coma, she was transferred to the Children's Hospital Rehabilitation Unit (CHRU). Taylor had lost the ability to hold her head up, dress herself, or use the bathroom on her own.
"We refer to CHRU as the magical land of rehab," Kim says. CHRU physical, occupational, speech, and recreational therapists worked tirelessly with Taylor — teaching the once-active child the most basic of skills.
Here again, Kory was by Taylor's side — motivating her to fight through her pain, focus on the music, and walk.
Over those next several months, with her team by her side, Taylor managed to do just that.
Taylor's debut
Physicians still don't fully understand what caused Taylor's seizures. She has had innumerable tests over the past two years and continues to be seen by physicians at UPMC Children's. With persistent effort, she is also working in special education classes to relearn nearly all her academics. Yet, Taylor is mostly thriving.
Despite ongoing developmental delays and acute memory problems, Taylor has regained her physical strength and is back in school full-time. The singing Taylor enjoyed with Kory has led to roles in several school musicals, including High School Musical and Annie Jr.
Taylor even got to show off her singing at UPMC Children's Hospital Foundation's sixth annual Walk for Children's. On June 5, 2021, with thousands of walkers from all over the world tuned in, Taylor opened the event with her rendition of the national anthem.
The memory of her daughter kicking off an event centered on walking — the very skill Taylor painstaking relearned in the months following a life-altering coma — remains a powerful one for Kim. "Taylor never ceases to amaze us. She's proven over and over again that she can do just about anything."
Check out Taylor scaling a rock-climbing wall in September 2022!