What's Happening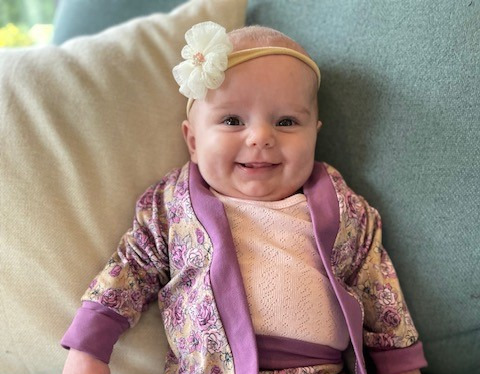 Rosie's Future
In July 2022, Amanda and Adam were just settling into life as a family of five when their newborn daughter, Rosie, started twitching. Fearful that something was wrong, Amanda and Adam took their 13-day-old infant to the Emergency Department (ED) at UPMC Children's Hospital of Pittsburgh.
Physicians in the ED informed Amanda and Adam that Rosie was seizing. The team did their best to stabilize baby Rosie before transferring her to the hospital's Pediatric Intensive Care Unit (PICU).
An Unexpected Diagnosis
PICU physicians diagnosed Rosie with acute meningoencephalitis. While meningitis is a condition that involves inflammation or infection of the protective layer of membranes that surround the brain (the meninges), encephalitis involves inflammation or infection of the brain tissue. Meningoencephalitis occurs when both the meninges and the brain are inflamed — a very serious occurrence in babies as young as Rosie. The 2-week-old had likely contracted a common virus or bacteria that traveled to her brain, causing severe inflammation. Without treatment, meningoencephalitis can lead to life-altering complications, including brain damage or even death.
Despite the gravity of her illness, Rosie seemed to be getting better after several days of treatment in the PICU. She was cooing at her mom and seemed happy. Then, the seizures started again. Rosie was intubated and connected to a respirator.
While Amanda and Adam were devastated to see their baby girl hooked up to a breathing apparatus, they knew she was in good hands. "I can't say enough about the PICU team," Amanda shares. "They took the time to listen to us, to explain things. All of these people were working together to help Rosie get better."
After a week on a ventilator, Rosie was finally able to breathe on her own again. She was taken off the respirator and transferred to a stepdown unit for ongoing care.
The Little Things
With two other young children at home, Amanda and Adam did their best to juggle Rosie's care and the care of their boys, Ezra, age 3, and Winston, 18 months. Amanda stayed at the hospital with Rosie, while Adam rotated between the hospital and home to see the boys. Thankfully, the couple's parents helped out with childcare.
"I ran out of the house that afternoon when Rosie started seizing and didn't go back home for 20 days," Amanda explains. Sleeping on the pullout bed in Rosie's hospital room, Amanda relied on the amenities provided by the hospital.
"The hospital staff gave me laundry packs, parking vouchers, and toiletries," Amanda shares. "That may sound small, but those little things are huge when your child is sick and you're just trying to make it through the day."
Amanda credits the PICU team, the Child Life Department, and Clinical Social Work with making a devastating experience far more bearable for the whole family.
Happy and Healthy
After nearly three weeks in the hospital, several procedures, and many sleepless nights for Amanda and Adam, Rosie was discharged home.
Today, 12-week-old Rosie continues to do well. She takes anti-seizure medication that neurologists are hopeful they can taper off in the future.
Rosie also receives early intervention services to monitor her development, and she is part of the hospital's Neonatal Developmental Follow-Up Clinic. Through the clinic, UPMC Children's behavioral health clinicians regularly assess Rosie to identify and address any long-term issues caused by her condition. To date, Rosie's development has been right on track.
When asked her hopes for her baby girl's future, Amanda replies quickly. "Oh gosh, I'm gonna try not to cry," she says with a laugh. "I just want Rosie to be happy and healthy…We absolutely love UPMC Children's, but we don't want to ever go back!"