What's Happening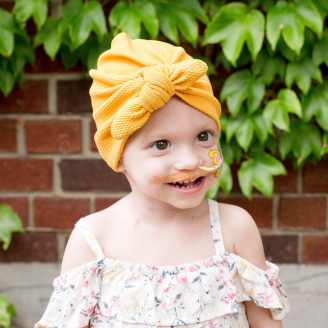 UPMC Children's "Became a Second Home" to Rilyn
"We are truly thankful for all of the nurses, physicians, surgeons, therapists, and specialists that have been involved in Rilyn's care," says Rilyn's mom, Jamie. "Their compassion has made our daughter feel like a princess while she is [at UPMC Children's] and everyone has gone out of their way to help put a smile on her face."
Rilyn's parents' lives were turned upside down just weeks after the onset of the pandemic, in April 2020, when they noticed persistent bruising under Rilyn's eye. When the bruising didn't heal, they brought her to the emergency department at UPMC Children's. Their worst nightmare became reality: Rilyn was diagnosed with high-risk neuroblastoma at just 18 months old.
After her diagnosis, physicians in the Division of Hematology/Oncology immediately put a plan in place which included five rounds of chemotherapy, three rounds of immunotherapy, a 14-hour tumor resection surgery, two stem cell transplants and radiation, as well as an additional phase that will include five more rounds of immunotherapy.
Learn more about how philanthropy fuels pediatric cancer research
Over the course of nine months, Jamie says UPMC Children's "became a second home" to the family. They spent more than 100 nights inpatient, and even celebrated Rilyn's second birthday in the hospital.
Rilyn has responded extremely well to treatment and, according to her recent scans, she does not have any active disease!
With support from donors like you, our physicians, nurses, and researchers in the Division of Hematology/Oncology at UPMC Children's can continue providing expert care for more kids like Rilyn.