What's Happening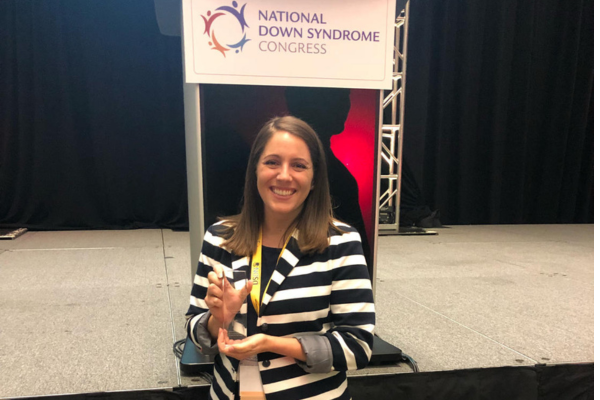 Philanthropy Supports Individualized Behavioral Health Care
May is Mental Health Awareness Month, a time to recognize and thank the talented mental and behavioral health specialists at UPMC Children's for their important work. Throughout our hospital, there are many licensed psychologists dedicated to supporting specific service lines. One of these health care heroes is Tarin Santamaria, PsyD, who provides behavioral health services tailored to meet the unique needs of children receiving care through the Down Syndrome Center (DSC) of Western Pennsylvania.
Making Specialized Support Accessible
Many children with Down syndrome benefit from specialized behavioral health support for social, emotional, communication, and adaptive skill development, as well as challenging behaviors. To make this care as accessible and individualized as possible, the DSC and UPMC Children's Hospital Foundation raised philanthropic dollars to create Dr. Santamaria's dedicated role.
"When my colleagues refer a child and family to me, my first priority is to get to know them and really understand their child's unique needs and goals," Dr. Santamaria said. "Because I specialize in Down syndrome, I have the background medical and mental health knowledge that allows me to identify the root cause of their challenges and the most effective treatment plan."
Helping to Solve Behavioral Challenges
Dr. Santamaria puts her extensive medical knowledge about Down syndrome to work each and every day while working with kids and families. For example, she often meets parents who report that their child can't concentrate and behaves disruptively at school. She knows children with Down syndrome are at high risk of developing sleep apnea, and poor sleep can result in difficulty focusing and irritability. She can then work with parents and medical providers to determine if the behavioral issues are linked to an underlying sleep issue.
Another common reason for behavioral challenges among children with Down syndrome is that they often experience delayed language development. What parents and educators interpret as misbehavior, Dr. Santamaria explained, can be related to a medical need or area of skill deficit. "I often see parents who are concerned because their child pushed another child at daycare. For a child who can't communicate with spoken words yet, a push might be their way of saying they want to play! In this case, we create a plan to help improve communication skills and teach the child how to request to play with another child," she explained.
According to Behavioral Science Division Program Director Chelsea Grefe McCann, PsyD, structuring care in this way holds immense benefits for patients. "Embedded behavioral health providers like Dr. Santamaria help improve medication adherence and behavioral problems while decreasing anxiety and the length of inpatient stays," said Dr. Grefe McCann. "They work collaboratively with our medical teams to significantly enhance continuity of care long-term for patients."
Expanding Support Across Pennsylvannia
After the pandemic, Dr. Santamaria's caseload saw a 201% increase. In addition to working with patients at the main hospital and its satellite locations, she supports families across the state of Pennsylvania through telemedicine, expanding care into rural areas where services are otherwise limited.
Dr. Santamaria, Dr. Grefe McCann, and all of their colleagues in the Behavioral Science Division are going above and beyond to expand care and improve outcomes for our patients. This Mental Health Awareness Month, we want to say a special thank you to their team, and to all of the individual donors and organizations who generously support their work.