What's Happening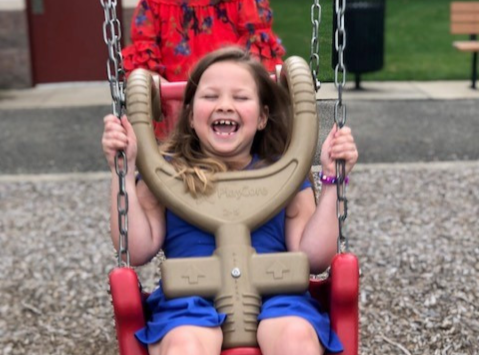 Maelynn's Big Smile
Maelynn is a spunky 7-year-old with dark blonde hair and a big smile. She is a straight-A student, loves music and gym class, and hopes to be a teacher one day.
Maelynn primarily relies on a wheelchair to get around, but according to her mother, Kaitlyn, Maelynn doesn't let that slow her down.
A difficult beginning
When she was born, Maelynn was two and a half months too early. Whisked off to the Neonatal Intensive Care Unit (NICU) shortly after birth, Maelynn was diagnosed with periventricular leukomalacia (PVL). PVL is a condition that usually affects babies born prematurely. It is believed to be the result of insufficient blood flow to the ventricles, the fluid-filled spaces of the brain.
PVL can cause damage to the nerve pathways that control motor skills and puts affected babies at a higher risk of developing movement disorders. In August 2016, near the family's home in Newnan, Georgia, physicians at the local hospital diagnosed Maelynn with cerebral palsy. She was 18 months old.
A hospital that feels more like home
When Maelynn was about 2, Kaitlyn decided to move the family to Pittsburgh. "I'm from here, and I wanted to be closer to my parents," Kaitlyn explains.
In the time since, Maelynn has been a frequent patient at UPMC Children's Hospital of Pittsburgh. Maelynn sees multiple specialties at the hospital, including physicians in the Cerebral Palsy and Related Disorders Program. "The doctors and nurses listen to what I have to say. They allow the parent to be part of a child's care," Kaitlyn shares. "The whole department is patient- and family-centered."
Over the years, Maelynn has had multiple procedures at UPMC Children's. She additionally receives ongoing therapy through the hospital's outpatient rehabilitation program.
During their visits to the hospital, Maelynn and Kaitlyn will take advantage of the many patient experience programs available. Between bingo, music therapy, and pet therapy, Maelynn stays busy. "The hospital can be a scary place," Kaitlyn says. "Anytime we go to UPMC Children's, Maelynn's not scared, she's happy. We feel at home there."
A big surgery
Maelynn's most extensive visit to UPMC Children's was in June 2022 when she underwent double hip surgery. "We love her orthopedic surgeon, Dr. Ozgur Dede," Kaitlyn states. "He explains everything to us and is absolutely incredible."
After six days in the hospital, Maelynn was discharged home. In the weeks since, she's been working hard with her physical therapists to develop greater mobility. "The staff makes rehab fun for Maelynn," Kaitlyn says. "She actually looks forward to it!"
Running ahead
Maelynn will likely continue to be treated by specialists at UPMC Children's through adulthood, but the prospect of frequent visits to the hospital doesn't bother her one bit. In fact, not much does.
"We've worked really hard to make Maelynn's life as normal as possible," Kaitlyn states. "Our home is fully accessible and the Plum School District, where Maelynn attends second grade, has always been totally inclusive."
In the years to come, Kaitlyn wants Maelynn to continue to feel at home at the hospital and throughout her community.
Advanced for her age academically, Maelynn will tell peers that her legs are not broken, she just has cerebral palsy. "She likes to go really fast in her wheelchair and say, 'Look, mom, I'm running!'" Kaitlyn shares. "Maelynn doesn't see herself as any different than others. My hope is that it's always that way."