What's Happening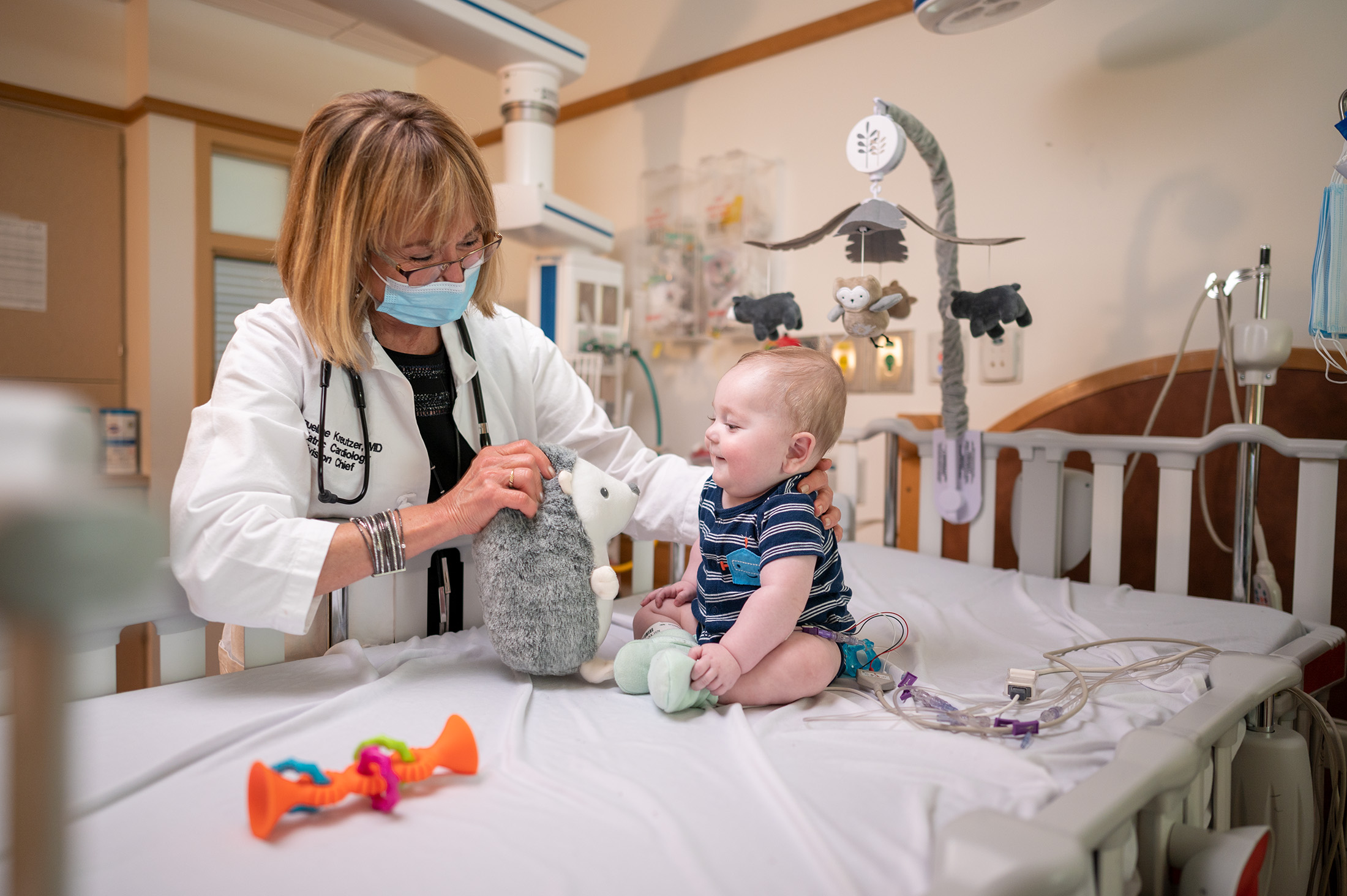 Meet Julien
Julien is a beautiful, blue-eyed little boy. His bright and bubbly personality is evident to anyone he meets. Like many other 1-year-olds, Julien enjoys activities that are typical for a toddler, such as reading books, playing with any type of ball, spending time with family, and occasionally, watching an episode or two of Cocomelon. He lives with his mom, Mandy, and dad, Jake, in the Greentree area of Pittsburgh. Julien also has two older brothers, Ethan and Ryland.
Early Detection
Julien's remarkable story started before he was born. When Mandy was only 20 weeks along in her pregnancy, a routine scan revealed that something wasn't right with her unborn baby's heart. Doctors later found that her baby had hypoplastic left heart syndrome, or HLHS. HLHS is a critical congenital heart defect which affects blood flow through the heart.
Julien was born at UPMC Magee Women's Hospital on June 10. "I had Julien the same week we were having a graduation party for our oldest son," Mandy reminisces. "The past couple of years have been a whirlwind." Shortly after his birth, Julien was transferred to UPMC Children's.
When he was only 4 days old, Julien underwent his first surgery at UPMC Children's Heart Institute. He remained inpatient in the hospital for more than three months thereafter, before a second heart surgery at 14 weeks.
The Long Wait
While Julien's surgeries were a success, Heart Institute physicians advised the couple to place Julien on the list for a heart transplant. Listing Julien for a transplant would involve staying inpatient at UPMC Children's for approximately six months until an appropriate match was found. "We were upset and frustrated because he seemed to be doing so well," Mandy explains. "We just wanted to bring him home with us."
The family received a call five and a half months later that a heart was ready for Julien, but it fell through. "It was such a difficult time," Mandy shares. "We couldn't stay at the hospital 24/7, but the nurses at Children's are so great; we knew Julien was in good hands when we weren't there."
Julien celebrated his first birthday in the hospital. Mandy recalls that the Child Life Department at UPMC Children's helped with party planning to make the day special. Throughout their stay, the music therapist, Nicole, would come to visit Julien. He absolutely loved seeing Nicole and hearing her play. Three days after his first birthday, we got the news we had been waiting for," Mandy says. "They found a heart for Julien."
The Road Ahead
Surgeons at UPMC Children's Heart Institute performed a successful heart transplant on sweet Julien, and life has been a little easier for the whole family since that transformative day. "He has been hitting all of his milestones; crawling, standing on his own," Mandy relays. "He even eats what we eat now." Julien will need more procedures and likely two more transplants as he grows, but he will be able to live an otherwise mostly normal life.
Mandy and Jake give their gratitude to the hospital staff who supported the whole family during Julien's time at UPMC Children's. "He was known as the mayor of the 7th floor when he rode around in one of the wagons," Mandy says. "Nurses and clinical staff who weren't even assigned to treat him would stop by. The whole staff is amazing."
In the years to come, Mandy and Jake want their little boy to reach his fullest potential. "He's already touched so many lives in the short time he's been here," Mandy says. "Our hope is that new medical advances enable him to live a long and healthy life so he can continue to bring happiness to others."