What's Happening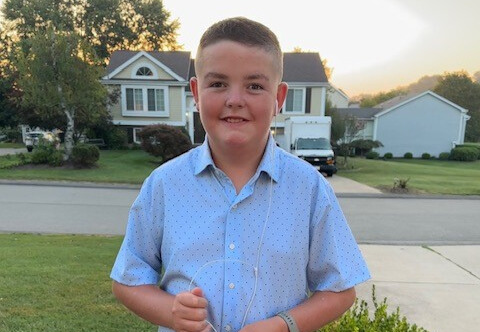 Jimmy's Life Defying the Odds
At four months old, Jimmy was diagnosed with an inoperable brain tumor and borderline hydrocephalus, and the prognosis looked grim. Many doubted he would live to see his first birthday. However, with the unwavering determination of his parents, the support of an exceptional medical team, and the power of prayers and community, Jimmy has spent his life defying the odds.
Finding Support at UPMC Children's
Over the course of the next 13 years, Jimmy and his family have come to rely his medical team at UPMC Children's Hospital of Pittsburgh. They have provided relentless support and have become a beacon of hope in the darkest moments. "Whether it was the reassuring look from a doctor, the comforting words from a nurse, the healing power of music therapy sessions, or the calming presence of a child life specialist, every small gesture made a monumental difference in Jimmy's life," says Jimmy's mom, Lacie.
Discovering an Innovative Treatment
Jimmy's battle with his condition was far from easy. He faced tumor recurrences six times, enduring numerous chemotherapy treatments and port surgeries. Currently, he is undergoing treatment with a Mek-inhibitor medicine for his seventh recurrence. The complexity of Jimmy's tumor lies in its unpredictable nature, as it can manifest in different areas of his brain along the optic nerve at any time. Surgery is not an option due to the risk of irreversible damage. The priority is clear: to ensure that Jimmy, a vibrant and unique child who loves people, effortlessly makes friends, and plays the drums with unmatched passion, lives a full and beautiful life.
When Jimmy was first diagnosed, the Mek-inhibitor was in its early trial stages. Thanks to the ingenuity of dedicated doctors and researchers, this medication became a life-changing option for him. Less invasive treatments allowed Jimmy and countless other children to heal without constantly feeling sick, granting them the opportunity to experience the joys of childhood. Through continued research and support for medical staff, we can make a significant impact on making new treatments available to children before it's too late.
Looking Ahead
"We have faced seemingly insurmountable odds, but UPMC Children's has been our unwavering ally," says Lacie. "They have walked beside us, partnering with us to find solutions to the most challenging obstacles. They continue to support us as Jimmy undergoes treatment and as we tirelessly search for his cure.
When you support UPMC Children's, you are not only supporting Jimmy but every child in the hospital who relies on your compassion, understanding, and belief in their healthy future.
To hear the rest of Jimmy's incredible journey, join us during the DVE Rock's Children's Radiothon. When you become a Platinum Rockstar with a $20 monthly gift, you support every kid like Jimmy in achieving the healthy future they deserve.