What's Happening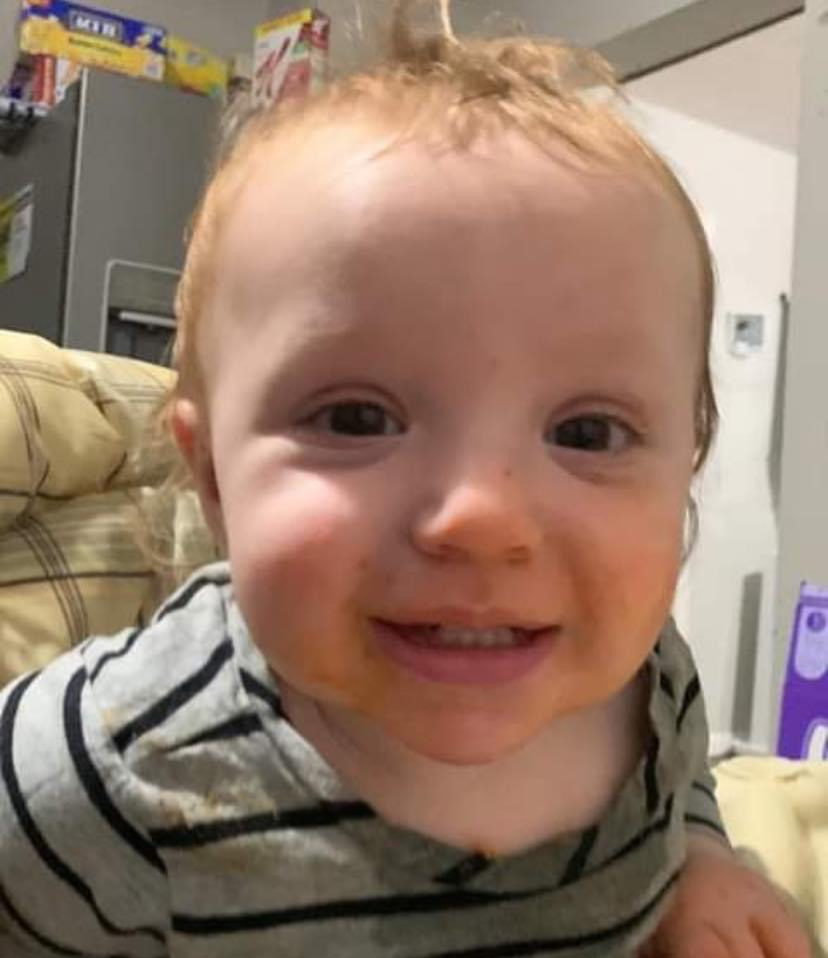 Frankie's Story
Julia hugs her 17-month-old daughter tight before laying her down gently on the cool sheets of the crib. She pulls a blanket up under Frankie's chin and leans over to stroke the wispy hairs atop her baby girl's head. With her face nestled close to her daughter's ear, Julia whispers, "Frankie, Mommy loves you."
As she tiptoes out of her baby's dark room, closing the door quietly behind her, Julia is flooded with gratitude for this moment and every moment with her daughters.
The First Signs of Trouble
Frankie was born on August 26, 2021, a healthy 7 pounds, 11 ounces. A few days later, at her first well visit checkup, the pediatrician noticed that Frankie had lost a few ounces.
At 2 weeks, Frankie seemed lethargic and was down nearly two pounds total. Concerned, Frankie's pediatrician sent the family to the Emergency Department (ED) at UPMC Children's Hospital of Pittsburgh.
Intensive Care
Concerned about the newborn's weight loss, physicians quickly transferred Frankie from the Emergency Department to the Pediatric Intensive Care Unit (PICU). Julia was beside herself. "I was only two weeks postpartum," she says. "I was hysterical. The PICU staff kept saying, 'It's okay. She's going to be okay.'"
A team of physicians and nurses went to work stabilizing Frankie. Julia recalls that the experience was completely overwhelming, but that the PICU staff were amazing—reminding Julia to take a break whenever she needed one.
While Frankie remained stable that first night in the PICU, by the second day of her hospital admission the 2-week-old spiked a 104.2-degree fever.
The physicians explained to Julia that they needed to conduct a spinal tap to test a sample of Frankie's cerebrospinal fluid. "I told them to do whatever they needed to do," Julia shares. "Just save my baby."
A Dangerous Diagnosis
The spinal tap revealed bacteria in the fluid surrounding Frankie's spinal cord. Physicians diagnosed the newborn with salmonella meningitis, a rare and often deadly form of meningitis caused by salmonella bacteria—the source of which remains uncertain. Frankie was in salmonella takeover, with bacteria found in her urine, stool, and blood.
The next two-plus weeks were a blur for Julia and her family. Frankie was administered multiple antibiotics and additional medicine to prevent blood clots. She had a platelet transfusion and a PICC (peripherally inserted central catheter) line inserted.
The PICU team worked around-the-clock to treat the bacterial infection, reduce Frankie's fever, and prevent further medical crises.
With her newborn in the intensive care unit hooked up to all kinds of machines and her older daughter at home, a postpartum Julia spent the next two weeks traveling back and forth between the hospital and the family's home in Beaver County.
Under the Same Moon
Despite the difficulty of this period in their lives, Julia and her husband, Michael, recall their time at UPMC Children's with profound appreciation.
Thanks to donor funding, the family received gas cards to help cover their 50-minute trips to the hospital and gift cards to help with meals. "You don't plan for those kinds of expenses," Julia explains.
In addition to the assistance provided through Clinical Social Work, the family also benefitted from Child Life services that helped to bridge the space between the hospital and home. "The Child Life team gave us Under the Same Moon to read with my oldest, Lyla," Julia says. The children's book reminds families that love transcends both time and distance. "The entire team at Children's worked together to help Frankie get better and to care for us as a family."
Throughout Frankie's hospitalization, Julia spent her days at UPMC Children's with Frankie and her nights at home with Lyla. She recalls that leaving one child to be with the other was unimaginably difficult. "I knew Frankie was in good hands, but it was so hard," she says. "I'd leave the hospital in the evenings and make the long drive home. As soon as I'd get in the door, I'd start calling the hospital to check in on Frankie."
Julia explains that the nurses and staff always took the time to answer her calls. "I'd call every night," Julia shares. "The nurse would hold the phone up to Frankie's tiny ear and let me tell her, 'Frankie, Mommy loves you.' I'll never forget the kindness of those nurses."
An Angel on Earth
After 15 days in the hospital, numerous MRIs, CT scans, tests, and procedures, Frankie was discharged home. She received ongoing treatment from the Division of Infectious Diseases for several months following discharge and continues to be monitored by medical and interventional specialists to this day.
Despite the gravity of Frankie's illness, she's recovered exceptionally well. Now nearly 1 ½ years old, Frankie has met every developmental milestone. She likes animals and cars and tackling her big sister in a bear hug.
With double dimples on her plump cheeks and a mouth full of little teeth, Frankie comes running when her mom enters the room.
Looking down on the toddler who's defied so many expectations, Julia shares, "She's an angel on earth, my Frankie. So full of love." Julia pauses for a moment before continuing, "I could have lost her. I owe everything to Children's."