What's Happening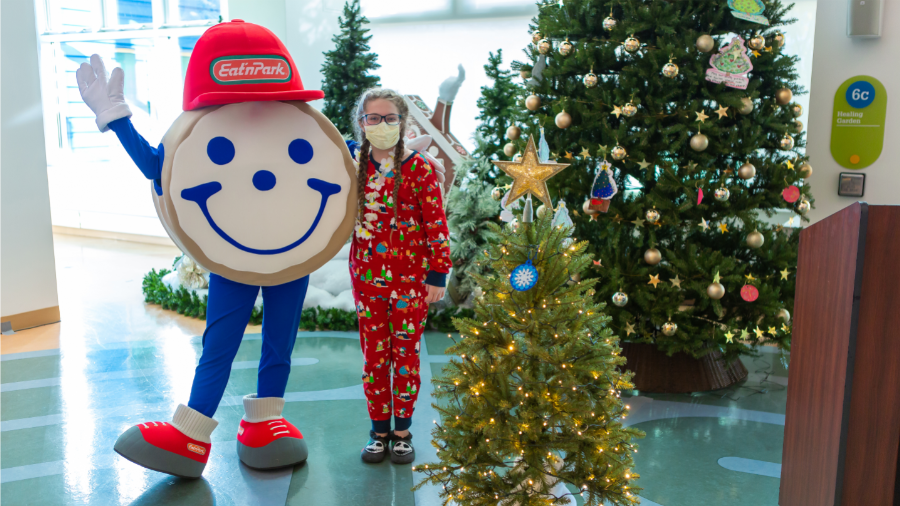 Creating Holiday Magic in the Hospital
For kids and families at UPMC Children's, a time of year that should be filled with joy and magic is often scary, stressful, and worrisome. Thankfully, our staff work tirelessly to create a little magic for families spending their holidays in the hospital.
Special event coordinator in the Child Life Department, Becky Desmond, says, "some of the events we hold are to provide a sense of normalcy to our patients – they mimic things they would normally be doing at home – while others are fun opportunities that come up because they are here with us."
Child Life is an invaluable service at UPMC Children's, providing emotional, social, and educational support to children of all ages. Supported solely through philanthropy, the Child Life team brings magic to the hospital in many special ways! Here are just a few:
Santa Claus Parade
For the first time since 2019, Santa is coming to UPMC Children's!  Due to the high volume of patients and significant number under isolation precautions, Santa will "parade" through the units, saying hello, waving, and passing out small goodies (candy canes for staff and parents, activity books for kids).
Decking the Halls
Patients can make their very own ornaments to decorate the big Christmas tree in the atrium of the hospital!
Virtual Santa Visit 
It's the week before Christmas and Santa is busy making final preparations, but he takes time out of his day to chat virtually with our patients. Santa calls in from the North Pole to talk one-on-one with patients from their rooms.  Each patient who visits with Santa receives a soft, warm blanket to cuddle up with while they wait for Christmas morning.
Cookies for Santa
Who doesn't love to leave out cookies for Santa?  On Christmas Eve, cookies are provided to patients who want to leave them out for Santa. We've learned over the years, that Santa enjoys nibling on sweet treats as he makes his rounds throughout the units delivering toys to kids spending their holidays in the hospital.
The dedicated staff in Child Life, nurses, doctors, and so many others work all year to make sure patients and families have an exceptional experience at UPMC Children's, but during the holidays, the magic they create makes an incredible difference.
A gift today is at the heart of holiday magic in the hospital. Without your giving, these hardworking individuals would not be able to create magic for patients and families at the holidays.