What's Happening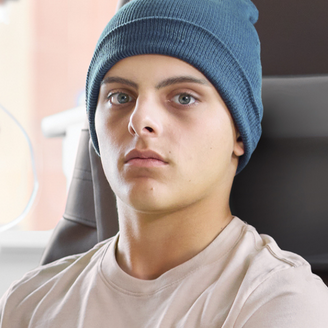 Colin's Second Chance
As told by Colin's parents, Bruce and Pamela
In August 2021, our then 15-year-old son, Colin, had a yearly wellness check with his pediatrician. During that visit, his pediatrician noted that Colin had lost over 10 pounds in four months. That past April, Colin had been evaluated by a UPMC orthopedic doctor for a baseball injury; thankfully, his weight was recorded in the UPMC system, which is how it caught his pediatrician's eye.
While we had noticed that Colin was thinner than usual, the weight loss did not concern us because he was back to playing baseball and golf and had grown a few inches.
At the time of Colin's wellness check, he had no symptoms of any kind. However, because of the weight loss, our pediatrician ordered blood tests. A few days later, the doctor called to tell us the blood tests were negative. Unbeknownst to us, our pediatrician was still concerned, so he asked the lab to run a few more tests over the weekend.
An Unexpected Diagnosis
On Monday, Colin's pediatrician called back to tell us that the additional testing revealed something. He wanted us to take Colin to UPMC Children's that afternoon for additional blood work. At the time, Colin was on the golf course, finishing the first round of his three-day tryout for the North Allegheny Golf Team. After the round, we took him straight to UPMC Children's as directed. We had no idea then that Colin would not return home for seven months.
A few hours later, we received the worst news parents could receive: Colin had leukemia and needed to be admitted to the hospital immediately to begin further testing and chemo treatments.
That was August 16, 2021, our eighteenth wedding anniversary. On August 18th, tests confirmed that Colin had Acute Myeloid Leukemia. That began what amounted to our seven-month stay on 9B.
Community of Support
From day one at Children's, we, and especially Colin, were treated with great empathy, dignity, and respect. Words cannot express the admiration and gratitude we have for the doctors, nurses, and staff there.
The people at Children's could not do enough for us. They are all truly remarkable, caring, giving individuals. The 9B nursing staff deserve to be recognized for their tireless efforts. The nurses were always willing to do whatever they could for us, to make our stay at Children's as comfortable as possible. Just their kind, supportive words meant so much.
Throughout his treatment, Colin was able to maintain almost all A's while doing school from his hospital bed. His principal, guidance counselor, and teachers were amazing.
Colin Today
Today, Colin is a high school senior and an avid athlete with plans to attend college with a focus in golf management after he graduates in 2024. Now, two years removed from that day in August 2021, Colin is in remission and doing great. He is a thoughtful, smart, caring, and sensitive kid. His future is there for the taking.
We are forever grateful to Colin's pediatrician, who trusted his gut that things just weren't adding up. We are also grateful for the incredible doctors, nurses, and staff at Children's.
To Those Who Give
To the many people who donate to the hospital, we would simply like them to know how grateful we are for their willingness to give. Regardless of the size of the donation, every dollar matters.
While it may sound cliché, the life that is saved may be your child's. We, and all Pittsburghers, are so very fortunate to have this great facility at our disposal. Hopefully, people will never need the services UPMC Children's offers, but if you do, it is here. We are thankful that Colin is now happy and healthy. Without donations, we might not be so lucky.
— Bruce and Pamela, Colin's parents