What's Happening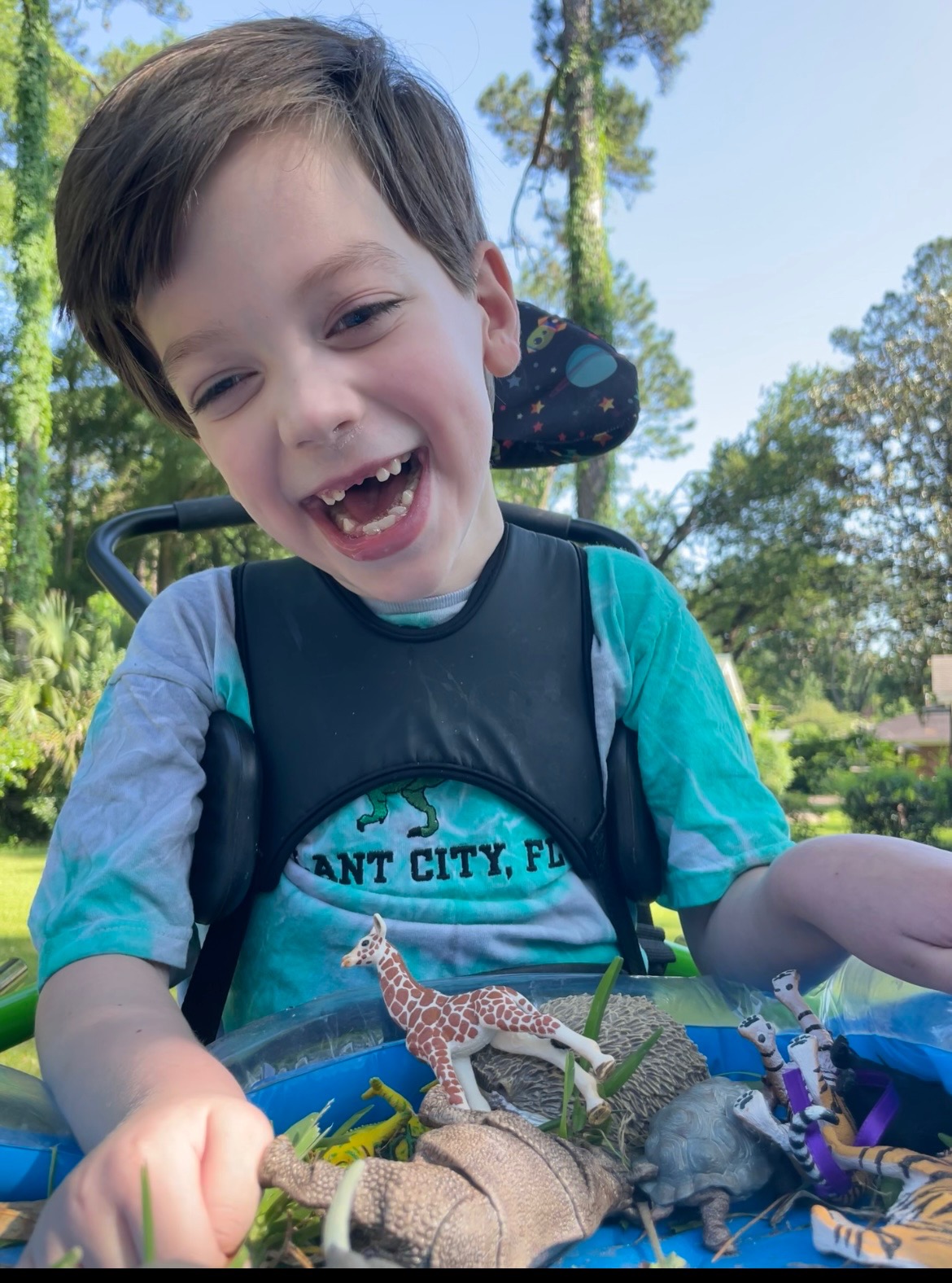 A Rare and Life-Threatening Diagnosis
Cloud is a lanky 6-year-old with chestnut brown hair and a goofy smile. He loves animals and superheroes and maintains an impressive body of knowledge about dinosaurs. As a toddler, Cloud was your average, active little boy — climbing all over and getting into just about everything. Right before his 3rd birthday, that all changed.
Cloud started having trouble with his balance. He was limping a little and something seemed not quite right. His parents took him to the children's hospital near their home in Georgia to figure out what was going on.
"He was initially misdiagnosed," Cloud's mom, Sloane, recalls, "and then he kept getting worse — losing fine and gross motor skills. The doctors ran additional tests, and that is when he was diagnosed with Krabbe disease."
Krabbe disease is a rare neurodegenerative disorder that destroys the protective coating of nerve cells in the brain and nervous system; there are fewer than 5,000 cases per year in the U.S. The nerve damage keeps the brain from sending signals to the body, affecting critical bodily functions like walking, vision, hearing, and swallowing.
The local hospital told Sloane and her husband, Carlyle, that there was little they could do for their son. They should take Cloud home and make him comfortable.
Cloud Finds His Way to Pittsburgh
Devastated, Sloane and Carlyle refused to give up hope. They started researching Krabbe disease and looked to others in the community for help. It was then they first learned about Maria Escolar, MD, MS, and the NDRD Clinic at UPMC Children's Hospital of Pittsburgh. Thanks to the exceptional philanthropic support provided by The Legacy of Angels Foundation, the NDRD Clinic is one of the foremost centers in the world treating children with Krabbe disease.
"We felt so much better after speaking with Dr. Escolar," Sloane explains. "She told us that cord blood transplantation has extended the lives of many children with Krabbe. We got off the phone and started making arrangements for Pittsburgh."
On Sept. 20, 2019 — about a month after Cloud's initial diagnosis — he received a cord blood transplant at UPMC Children's. He was 3 years old at the time. In the month between his initial diagnosis and transplantation, Cloud had regressed dramatically — losing the ability to use the bathroom on his own, feed himself, or walk without assistance.
"We spent months at the hospital. It was the hardest time we've ever experienced," Sloane says, her voice layered with emotion. "Yet, the nurses and physicians at UPMC Children's were some of the kindest people I've ever met. They made an impossible situation bearable."
The Road Home
Cloud was discharged from UPMC Children's in early November, and in January 2020, the family returned home to Georgia.
In the two years since, Cloud has maintained the developmental milestones that were in place at the time of his transplantation. With extensive speech, occupational, and physical therapy — and a ton of hard work on his part and his parents' — Cloud has also made some gains.
Now, nearly four feet tall, Cloud is about to start the first grade. He continues to receive care at the NDRD Clinic, seeing interim director Deepa Rajan, MD, for ongoing treatment and monitoring. Cloud can rattle off facts about velociraptors and wooly mammoths without missing a beat. He enjoys seeing all the doctors and nurses who he calls "his people" throughout the week — the many therapists and medical specialists who fill the family's days and are as fond of Cloud as he is of them. With what little spare time he has left between appointments and homeschooling, Cloud likes to dig in the family's backyard in an untiring effort to uncover dinosaur bones.
Sloane and Carlyle aren't entirely sure what the future holds for Cloud, but they're determined to do whatever they can to nurture and support the inquisitive 6-year-old.
"Our job as parents is to make sure he has everything he needs to live his best and most amazing life possible," Sloane says definitively, with the sound of Cloud playing Lion King in the background. "Not a day wasted, or a single minute taken for granted."
Kids like Cloud find the help they need every day at UPMC Children's thanks to the support of our donors.