What's Happening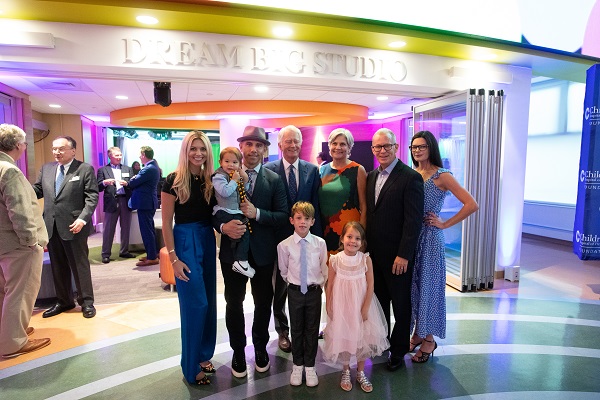 Changing the Future of the Heart Institute
A Testimonial From Joan Stephans
If you're familiar with UPMC Children's, you're likely familiar with the UPMC Children's Heart Institute. Its ranking of #3 in the nation reflects remarkable outcomes for children impacted by heart disease. But great outcomes for some — or even most — are not enough. The Heart Institute is pushing boundaries until that number is all.
In celebration of American Heart Month, we've invited Joan Stephans — donor, trustee, and friend to the Heart Institute — to share why she and her family are inspired to support this program. 
In Joan's Own Words
"Heart disease has always been close to home. My own father was affected by heart disease, and he eventually passed away due to a heart attack. Throughout his life, my mother cared for him with her ever-nurturing spirit. I see that same spirit in the heroes who work in the Heart Institute, and I'll never forget two moments that revealed to me how necessary it is that this cardiology program never stops growing.
In the fall of 2010, I had the humbling experience of visiting the cardiac unit at UPMC Children's. During this visit, my husband, Peter, drew my attention to a tiny infant — less than 24 hours old, we learned — being carried by the surgeon who had just saved the baby's life. In the course of one day, a new life was nearly cut short, but by the miracle-workers in that operating room, this baby was returned to loving parents with a steadily beating heart. The same day, we passed a hospital room where a mother, father, and two boys were gathered around a bed where a third little boy was bundled. This boy, the youngest of three brothers, was awaiting a heart transplant. It was a few days before Thanksgiving, and while the family would surely have loved to be home for the holidays, the risk of this boy experiencing life-threatening complications was too great. So they stayed by his side, waiting, hoping.
As my family and I sat down to Thanksgiving dinner days later, the image of the day-old child who'd been given new life stayed with me, as did the image of the family gathered around their youngest boy. My thoughts wandered through all the possible outcomes that family could face, and then it occurred to me what an astounding thing it was that this boy could be saved, just like that tiny infant had been saved. Just over 50 years ago, the world had yet to see a successful heart transplant. But today, this boy had a fighting chance. And if children today have a fighting chance, who's to say that in 50 more years, that chance couldn't be a certainty?
Looking Towards the Future
The physicians, nurses, and staff in the Heart Institute are brilliant, compassionate, and deeply invested in the care they provide their patients. This team is using 3D heart models to plan complex surgery, investigating methods of regenerating human heart tissue, leading key clinical trials for groundbreaking new therapies, while the nursing staff care for these children and parents as if they are family. They are already doing incredible work, but significant funding is needed to sustain that work and ensure that rates of survival and quality of life move in the right direction. 
The infant we passed in the hallway, the young boy awaiting his new heart on the eve of Thanksgiving, and so many others could have long, full lives ahead of them. By contributing critical dollars to the Heart Institute, donors can help cardiologists enhance detection, diagnosis, and the speed and efficacy of treatment, using all the tools in their arsenal to give the priceless gift of life. My family and I give to the Heart Institute because we feel a responsibility to care for those future generations, and we trust the experts at UPMC Children's to lead the way."