What's Happening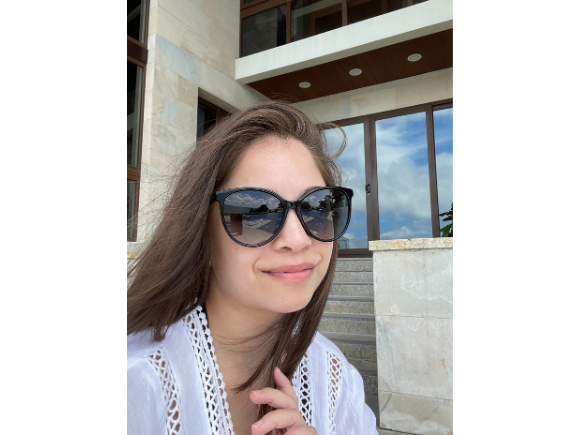 A Living Miracle
Thalassa "Sasha" Elizalde del Rosario is a wife, mom, and businesswoman from the Philippines. Sasha became a "living miracle" when she received a liver transplant at UPMC Children's in 1987. Today, she gives back to the hospital that saved her life. Here, she tells her story in her own words. 
Just like that
It was 1987 when my life altered tremendously. I had just turned 2. One afternoon, as I was eating lunch, I suddenly collapsed out of the blue. I was immediately rushed to the hospital.
The diagnosis? Hepatoblastoma—liver cancer.
And just like that, everything changed for me and everyone around me. My life would now revolve around hospitals, doctors, medications, lab tests, and all things medical.
Finding Dr. Starzl
At that time, medical advancements were not as sophisticated as they are today. Every doctor my parents spoke to said that there was nothing that could be done for me.
My parents wouldn't take no for an answer. They did extensive research, leaving no stone unturned.
Finally, my parents were introduced to Dr. Thomas Starzl, a pioneering transplant surgeon from Pittsburgh. They heard that he was willing to take my case. My parents decided to fly us all from our home in the Philippines to the US immediately.
A Match
Upon assessing my condition, Dr. Starzl and his team of professionals graciously and courageously took on my case. They would remove my cancerous liver and replace it with a healthy one.
After a grueling 20 hours, my transplant surgery was a success.
What followed were six long months spent in the hospital with everyone monitoring my health closely. There were some good times, though, and my family even fostered relationships with the doctors and nurses.
At the end of the day, our stint at Children's was bittersweet–at times unnerving, at times almost pleasant–but it was all worth the wait.
Following almost 12 months in Pittsburgh, I had survived the initial stages of recovery and was ready to go back home.
Bubble Girl
Upon our return home, and for the next five years or so, my life was quite structured, and our home setup was akin to the environment of a hospital. I often joke that it was similar to the scenario of Jake Gyllenhaal's character in Bubble Boy (minus the suit).
It was only when I was about 7 that these stringent measures began to ease up and my proper schooling and socialization began. Although strict health protocols still had to be followed.
Due to the medications I took, my physical development was altered. There were other difficult side effects, and I often felt I just didn't "fit in" with others my age.
My childhood was not a typical one and it was a struggle I had to cope with–some remnants of which are still present to this day.
Back to Where it All began
In 1997, with my health status stable, Dr. Starzl recommended I make the move to a new treatment regimen. This really was an exciting development, but the transition would require a trip back to Pittsburgh to run a few tests and determine if my body was truly prepared for the change. And so, 10 years after my transplant, we went back to where it all began.
To be in the exact place where the magic had happened all those years ago was a major milestone, and quite surreal. Ultimately, the trip was a success and by the end of it, I had transitioned to the new medication.
Soon after the switch, we began to notice good changes. My blood numbers showed remarkable improvement and there was a clear reduction in side effects.
An Exciting Time
The next several years were an exciting time for me. By age 21, I was working in the family businesses. On the medical front, the torch of my medical care was handed over to Dr. George Mazariegos. My numbers and general health were looking amazing by this time.
I wed my husband in August of 2011 and my son was born in July of 2014. He is 8 years old now and is a healthy, energetic, and curious little guy
Looking Back
Now, as of the time of writing this, I currently live in the Philippines with my husband, our son, our herd of Australian Shepherds, and two fluffy little Pomeranians. Sadly, we've struggled to welcome another child into the world, and I've faced several very serious health scares in the process. Yet, our hope is that surrogacy will allow us to welcome a second little one in the future.
In the meantime, I spend my days keeping busy running the household, raising our boy, and working with the family businesses.
It has been 35 years since my transplant and I'm clearly still alive with an amazingly healthy liver. There have been many trying times these last couple of years, and I couldn't have gotten through it all without the help and guidance of my family and my doctors–led by Children's very own Dr. George Mazariegos–to whom I am truly grateful.
Another Chance at Life
To those who are in need of an organ transplant, don't ever give up hope. Transplantation provides the gift of another chance at life. Remember how precious that gift is, be grateful for it, and enjoy life to the fullest!