Patient Experience
Creating a positive patient experience is central to our work at UPMC Children's. Our physicians, nurses, and health care professionals seek out opportunities to make each encounter with a patient and their family comforting, reassuring, and uplifting.
UPMC Children's commitment to patient experience goes beyond these individual interactions. A variety of formal programs from Creative and Expressive Arts Therapy to Supportive Care focus on the developmental, social, and emotional needs of our patients and their loved ones.
Because these services are not reimbursed by insurance, support from donors like you enables us to offer them to families at no charge. Your generosity also empowers us to develop new programs, making each day brighter for the children we serve.
Child Life Department
With current funding, the hospital can support only a limited number of Child Life specialists, about half as many as comparable hospitals. Because Child Life is critical to the hospital's mission but not reimbursed by insurance, building sustainable funding is a priority.
Our Child Life specialists understand the perspectives of kids and ease their fears while in the hospital. They work one-on-one with patients across all clinics, getting to know each child so that they can tailor fun and therapeutic activities to meet individual needs.
Sometimes, that means sitting with a child to explain a diagnosis or procedure in child-friendly terms. Other times, it means employing advanced techniques to calm and distract patients, thereby decreasing the need for sedation. It can also mean creating a comforting environment by tracking down a favorite video game or staging an unforgettable high school dance..
Get to know the different ways Child Life makes an impact below.
Creative and Expressive Arts Therapy
Our extensive Creative and Expressive Arts Therapy program, staffed by certified Child Life specialists, music therapists, and art therapists, enhances the good and diminishes the bad for patients and their families. With your support, we can customize care based on each child's needs and abilities.

The Dream Big Studio
Fully funded by donors, the Dream Big Studio is a state-of-the-art independent TV and radio broadcasting studio located within the hospital where patients can create their own television shows or radio programs and develop their broadcast skills. The live shows are created, produced, and hosted by UPMC Children's patients with the support of Child Life staff and are shown on televisions throughout the hospital.

Nora Grace Kaufman Center for Creative Arts Therapy
There are some wounds that cannot be healed by medicine alone. For those, we turn to the healing power of art and music. Board-certified art and music therapists help patients, as well as their families, to address their physical, mental, and emotional needs though music, art, and other forms of creative expression.
Learn more about the Nora Grace Kaufman Center for Creative Therapy

Matt's Maker Space
Matt's Maker Space is designed to spark kids' creativity through science, technology, engineering, art, and mathematics (STEAM). Kids can tinker to their hearts' delight — building tiny robots, using a 3D printer, and so much more in this imaginative escape from the clinical environment.
Find out how Matt's Maker Space helps kids learn and heal
Supportive Care Program
There is nothing in the world that can prepare a family for the news that their child has a life-threatening disease. At UPMC Children's, the Supportive Care program, one of the first in the region, is here to offer guidance, comfort, and emotional support along this difficult journey.
When a child's prognosis does not include recovery, the team supports the family in personalized ways to preserve and honor their child's life. Family tree paintings, handprint models, and heartbeat recordings are priceless mementos that families can hold dear.
To help meet the physical, emotional, social, and spiritual needs of the children and families being served, the team also offers an array of programs like monthly support groups and a summer camp for bereaved siblings called Camp Wakchazi.
Social Work
The Social Work team provides individual, family, and group counseling; discharge planning; and assistance with patients' special needs. They also serve as patient and family advocates, helping parents find answers to questions and make appropriate decisions regarding their child's care. Through donor-funded family support funds, they further provide financial assistance to meet families' basic needs.
Parents of a sick child face so many worries; the financial burden of care should never be one of them. Your investment can ensure it never is for families in need.
Special Features for Comfort, Care, and Support
The Lemieux Sibling Center
When a child is hospitalized, tremendous stress and anxiety often fall on their family members — including their siblings. This unique playroom gives siblings of hospitalized kids their own supervised place to play, learn, ask questions about their brother or sister's diagnosis, and receive answers that they can understand in a safe, therapeutic environment. Brought to life by the Mario Lemieux Foundation, your support helps sustain the Lemieux Sibling Center's important role in families' lives.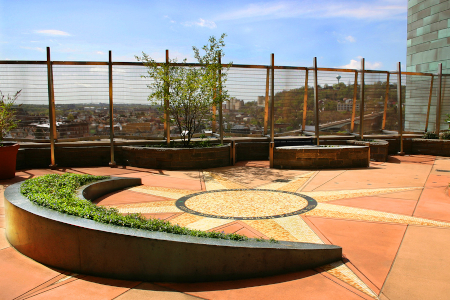 The Howard Hanna Healing Garden
Even here in a hospital, our kids and their families can bask in some much-needed sunshine thanks to the Howard Hanna Healing Garden. This outdoor rooftop garden on the hospital's sixth floor offers patients and families fresh air, peace and quiet, and a beautiful view of the city of Pittsburgh.
The Eat'n Park Atrium
The Eat'n Park Atrium is like the hospital's town square where patients and families meet on their way to the many available amenities, including a chapel, classroom, Austin's playrooms, the Dream Big Studio, and more. The expansive space is accentuated by floor-to-ceiling windows where trick-or-treating, movie nights, themed craft-making parties, and other special events are held.