Every October, schools and businesses across the region engage in fundraising by asking each participant to make a $5 donation (or other designated amount) in order to wear a favorite hat throughout the day.
The campaign kicks off annually the first Friday in October. Schools and organizations can choose their preferred participation date(s) when registering.
All proceeds from Wear a Hat for Cancer benefit the Division of Pediatric Hematology/Oncology and the Division of Blood and Marrow Transplantation (BMT) and Cellular Therapies at UPMC Children's Hospital of Pittsburgh.
Downloadable Wear a Hat Flyer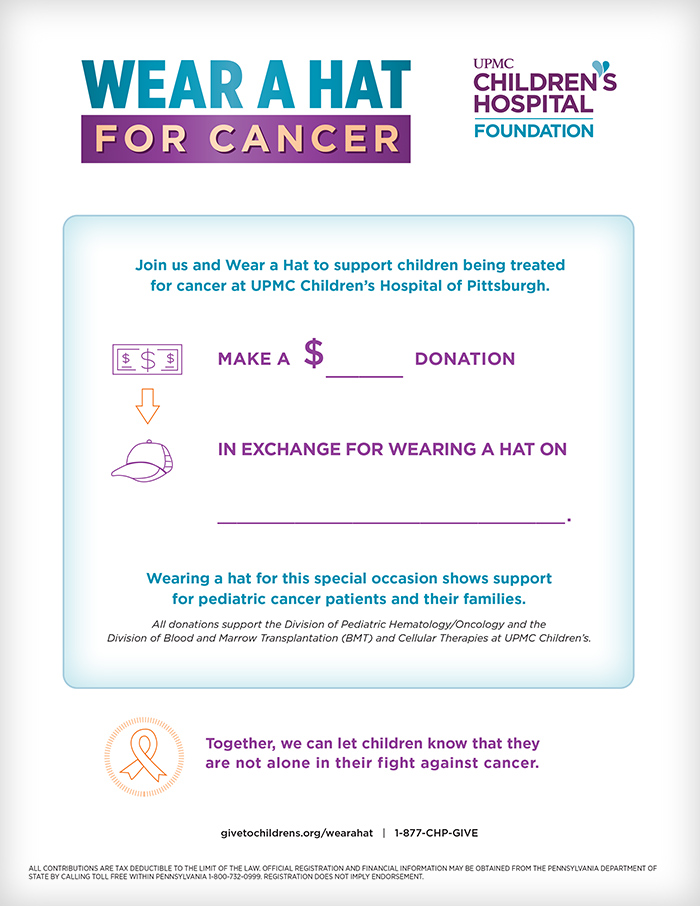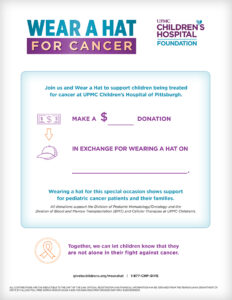 Donations
UPMC Children's Hospital Foundation asks that at the conclusion of your fundraising efforts, all donations be mailed to the Foundation office. Each participating school/organization is responsible for handling any cash/check donations.
All checks should be made out to "UPMC Children's Hospital Foundation" and mailed to:
Attn: Wear a Hat for Cancer
UPMC Children's Hospital Foundation
PO Box 535240
Pittsburgh, PA 15253
Please ensure there is a note/memo on the check stating your organization's name so we can direct the donation appropriately.
Questions?
For more information, contact us!